China train tours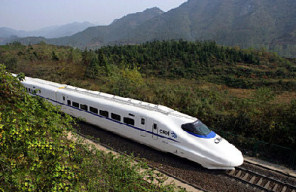 This 4-day Beijing to Xian train package is our MVP - Most Valuable Program in 2011.
The train pre-booking system is not available in China now. We only provide train ticket booking service for guests who buy our hotel+tour packages. Train tours in China
If you only ask us to book a train ticket, we can not offer this service.
Traveling by train in China is one of the convenient ways to visit major destinationss in China and is used widely by the local population. It might aslo be your only choice to see colorful culture of minority ethinics in some remote areas.
FAQ of China trains Photos of China trains
It is important to know what to expect if you decide to travel by train in China.
Train ticket category
Soft Seat: Soft Seat is available for city transfers between 1-4 hours and provides a better level of comfort. Soft Seat is quite comfortable inexpensive method of travel for a journey of a few hours. Many trains depart every 20 minute, and people like to use this convenient public transportation system. Highly recommend you to take a ride to visit small towns near Shanghai.
Soft Sleeper: There are four bunks in a compartment which has a door for privacy. Each bunk will have a blanket and pillow. Toilets are at the end of the carriage and may be a western toilet however they may not always be clean as they are used by people from other carriages. No toilet paper is provided in the bathrooms. Overnight trains are available between big Chinese cities, the most popular train travelers taking is.

If you choose to travel by train, We recommends booking a soft sleeper.
Train tour packages
| | |
| --- | --- |
| Train Express Tour Beijing to Xian 4 days | from $343.00 USD |

Xi'an has been the capital of eleven dynasties for more than 2000 years. It played a vital role in bridging the gap between east and west. The Terracotta Army of Qin Emperor is the highlight.
Destinations: Beijing, Xian, Beijing
| | |
| --- | --- |
| Classical China Lhasa Train Voyage 14 days | from $1,797.00 USD |

Explore ancient capital of Beijing. Fly to Lhasa, a place for mysterious Tibetan Buddhism, take 36 hours of Qinghai-Tibetan train to Xian, ends your voyage in morden coast city of Shanghai.
Destinations: Beijing, Lhasa, Xian, Shanghai
| | |
| --- | --- |
| Train tour Beijing-Datong-Pingyao-Xian 6 days | from $610.00 USD |

Train tour in the northern China, The combinations of Capital Beijing, traditional Datong, township Pingyao and ancient Xian is a perfect choice, This trip was rewarded as the Top Incentive and Cultural Program in 2011.
Destinations: Beijing, Datong, Pingyao, Xian